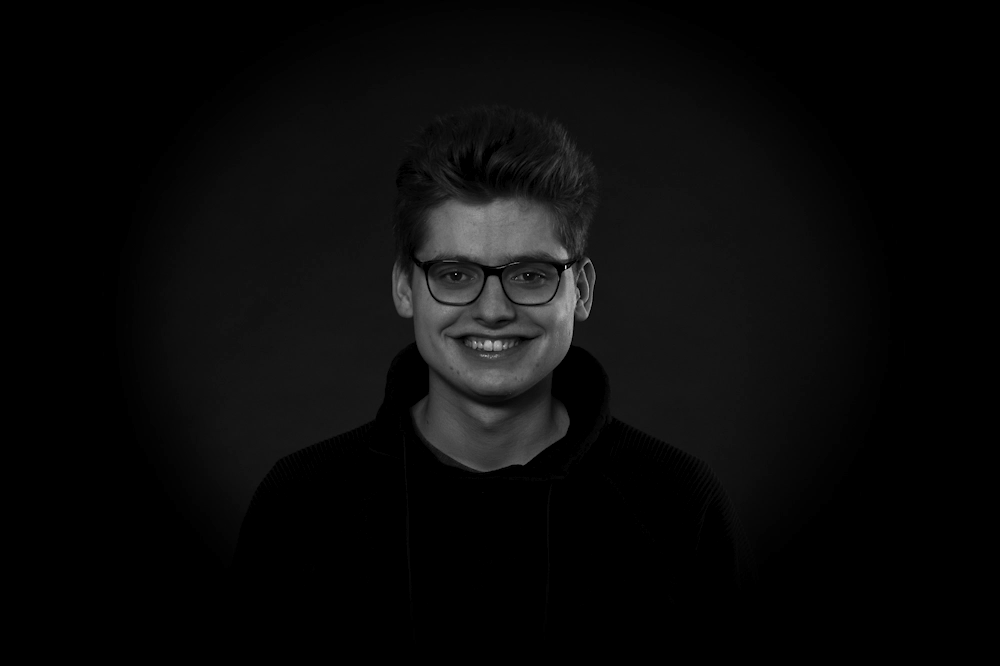 Creation
Jannik Mittelstaedt
Dear Jannik, when you told me you wanted to join LGM, I was a bit skeptical at first, because after all, as your father, I didn't want to be your boss, too. But after a short time it became clear to me: You have found a field here that fully matches your talents and your interests. So you became part of the team in a very short time and since then you have shown with your commitment and your willingness to learn that you are already very much in the right place here. Your learning curve is going steeply upwards and your interests are wide-ranging. These are ideal prerequisites for the profession of media designer, which you are learning with us. 
Thank you for being with us
Your daytime boss-otherwise-dad
Things I like about myself
My humor and my enthusiasm
Things I do not like about myself
I tend to be a little chaotic
Things I am proud of
My family, my friends, my passion for Rotaract & Rotary
People I used to admire
Lars Menck, my parents
People I admire today
My parents, my sister, Dirk Nowitzki, Colin Kaepernick, Michael Jordan
Jobs I have had in my life so far
Temporary worker in a shoe store
Movies I can watch over and over again
Friends, Modern Family, Star Wars, Remember The Titans, Coach Carter, The Breakfast Club, The Secret of My Success, Doc Hollywood, The Hard Way
Genius Movie Quotes
"Oh really, am i driving him to school or is he riding his burro?" (Modern Family)
Places where I have lived so far
Constance
Ways in which I can relax
Sleeping, reading, exercising
Books I can recommend
"Harry Potter" by J.K. Rowling, the "Eragon" series by Christopher Paolini, "The Great Nowitzki" by Thomas Pletzinger, "Touchdown" by John Grisham, the "Hunger Games" by Suzanne Collins and the best at the end: "Erebos" and also all other books by Ursula Poznanski
Places I have been on vacation
Diano Marina, Rome, Milan, Bologna, Parma, Sestri Levante, Lerici, Venice, London, Paris, Marseille, Vienna, Budapest, Sofia, Varna, Lisbon, San Francisco, Tracy, New York City, Boston, Washington, Pittsburgh, Chicago, Croatia, Hurghada, Marsa Alam
Websites I visit every day
YouTube
Great commercials
Get a Mac
Ingenious advertising slogans
Just Do It
Favorite foods
Pizza
Favorite drinks
Espresso, beer
Favorite actors
Jennifer Lawrence, Emma Watson, Julia Roberts, Chadwick Boseman, Jack Black, Kevin Hart, Robert Downey Jr., Matt Damon
Music I like to listen to at the moment
Imagine Dragons, Lenny Kravitz, Evanescence, Within Temptation, Bring Me The Horizon, Billy Joel, Clueso, Fanta 4, Juice World, Lil Tjay, The Weeknd
Sports I like
Basketball, American Football and Soccer (but only the FC Bayern Munich)
Things that enrich my life
My family, my friends, sports, Rotaract/Rotary
Places I can recommend in Konstanz
The "Seestraße", the "Auszeit", the "Löhlinbad", the "La Grotta".
Wishes I have
That my family and friends are happy and to make them proud.
My motto/wisdom
Be there for the people who matter to you. Everything else can wait.