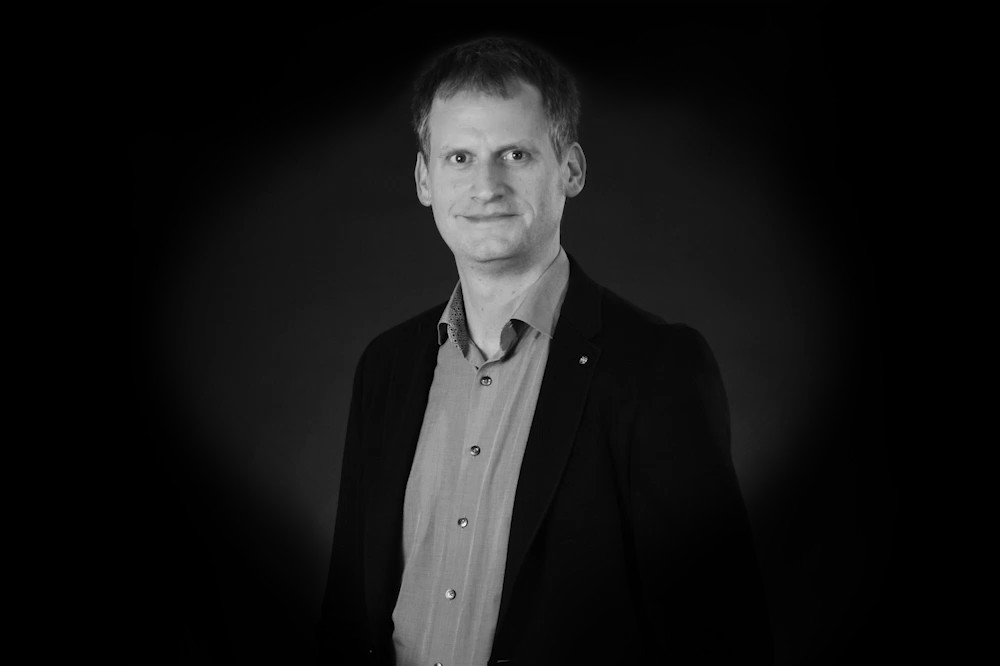 CEO
Jan Mittelstaedt
Grew up in Tübingen, went to London for a year when I was 12, have lived in Constance since 1983, was expelled from school after grade 11. Started apprenticeship as draftsman, dropped out after 4 months. Civilian service in a senior citizens' center, apprenticeship as a merchant in consumer electronics. Technical vocational college, business studies, company founded during studies, since then self-employed.
Things I like about myself
My enthusiasm and my attitude towards life
Things I do not like about myself
My difficulties to keep priorities (cf. enthusiasm)
Things I am proud of
My children, my marriage, my company, being an employer
People I admired as a child
Karl-Heinz Rummenigge
People I admire today
Dirk Nowitzki
Jobs I have had in my life so far
Vacation and part-time jobs: in a cemetery nursery, as a newspaper delivery boy, as a "doctor's assistant", as a cleaner.
Volunteering: as press officer and as co-manager of a basketball team, as member of Rotary.
Professional career: civilian service at a senior citizens' center, vocational training as a merchant in the field of consumer electronics, during business studies two internships at HP in Böblingen and at Bayer in Pittsburgh, business start-up, since then self-employed.
Movies I can watch over and over again
The Breakfast Club, The Sure Thing, Back to the Future, Ratatouille, Leathal Weapon, Die Hard, Bourne, Groundhog Day, Good Will Hunting, …
Genius Movie Quotes
"I'm too old for this shit" (Danny Glover aka Roger Murtaugh in Lethal Weapon).
Places I have lived so far
Tübingen (until 11), London (11 to 12), Konstanz (from 12), Böblingen and Pittsburgh (6 months each during my studies)
TV shows I like to watch
News, soccer, documentaries.
Ways in which I can relax
Listening to audiobooks, sleeping, having a beer on my terrace, having a cup of coffee, sauna, walking.
Books I can recommend
"The Great Nowitzki" by Thomas Pletzinger; "Factfulness" by Hans Rosling; "For Those I Loved" by Martin Gray; the "Salander" novels by Stieg Larsson.
Places I have been on vacation
Diano Marina, Lake Garda, Rome, Milan, Bologna, Parma, Sestri Levante, Lerici, Venice, Caorle, Gallipoli, Sicily, London, Paris, New York City, Boston, Washington, Philadelphia, Pittsburgh, Chicago, Tampa, Sarasota, Berlin, Lanzarote, Mallorca, Crete, Krk, Denmark, Singapore, and of course Konstanz
Websites I visit every day
zeit.de, welt.de, spiegel.de, sueddeutsche.de, faz.net
Advertising slogans I love
"Just do it" – Nike
"Mach es fertig, bevor es Dich fertig macht" (Get it done before it gets you done) – Hornbach (a German hardware store chain)
Favorite foods
Pizza, pasta, bread and cold cuts
Favorite drinks
Coffee, Beer, Wine
Favorite actor(s)
Robin Williams
Music I like to listen to at the moment
The albums "Sparkle in the rain" and "Once upon a time" by Simple Minds; almost everything by Lenny Kravitz; most of Green Day and Linkin Park; from Germany: Selig
Newspapers/magazines I read
Local newspaper
Sports I like
Soccer, American Football, Basketball
What enriches my life
My family; Constance; Lake Constance; vacation, especially in Italy; simple but good food and drink; Rotary, Rotaract, Interact
Places I can recommend in Constance
The Bodensee-Therme; the shores of Lake Constance and the Seerhein.
Wishes I have
Health for my family and me
My motto/wisdom
In 100 years it doesn't matter how much money I owned, what car I drove or what status I had, but whether I was important in the life of a child.