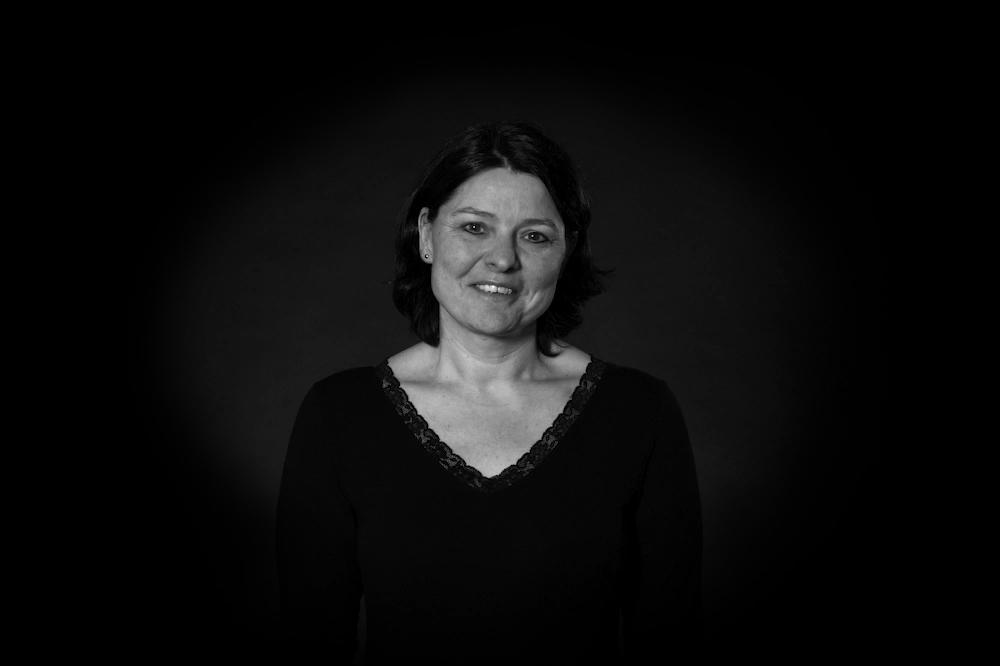 Project Leader
Tanja Mittelstaedt
Dear Tanja, with your cheerful and dynamic nature you give our team a wonderfully positive kick. Thanks to your training as a typographer and your communication design diploma, you have a broad foundation for advising customers, managing projects and supporting your colleagues. You also keep things moving with the accounting department and are a real team player. Your holistic thinking and your knowledge of human nature make you a great asset to us as a team in general and to me in particular, because I see you as my most important sparring partner.
Thank you for being with us.
Your husband Jan
Career
Abitur 1991; apprenticeship as typographer at Jacob Druck in Konstanz, then 2.5 years in this profession; one year pre-studies in design in Meersburg; communication design studies in Konstanz (after the 5th semester our son Jannik was born); diploma 2001; in September 2003 our daughter Lisa was born; since October 2006 I have been working at LGM.
Things I like about myself
My being organized (despite being a mess)
Things I do not like about myself
I am not very consequent about myself…
Things I am proud of
My children, my marriage, sometimes also myself ;o)
People I used to admire
Michael Jordan
People I admire today
My parents
Jobs I have had in my life so far
Babysitter; in the bookbindery at Jacob Druck, then apprenticeship there; cleaning in a doctor's office; medical assistant (but not trained); internship in an agency in Ludwigsburg; nude model
Movies I can watch over and over again
Sex and the City, Friends, Back to the Future, Monster AG, The Bull's Eye, Leathal Weapon, Die Hard, Groundhog Day, Von ganzem Herzen, Chocolat, Mr and Mrs Smith, Bourne Trilogy, Ocean's 11, 12 and 13, Under the Tuscan Sun
Genius Movie Quotes
"… Feels like flossing."
Places I have lived so far
Constance, 7 weeks in Ludwigsburg, 2.5 months in Pittsburgh, and Constance again
TV shows I like to watch
Documentaries
Ways in which I can relax
With a latte macchiato, preferably sitting in the sun; with a good movie and a good glass of red wine, in the sauna of the Lake Constance thermal baths
Books I can recommend
Der Pubertist, all three Stieg Larsson crime novels, all John Grisham books… especially "The Feast".
Places I have been on vacation
Diano Marina, Venice, Bologna, Parma, Lerici, Milan, Berlin, Rügen, Lake Garda, Lanzarote, Gran Canaria, Tenerife, Mallorca, Paris, Crete, Pittsburgh, New York, Chicago, Washington, Charlotte, Cleveland, Boston, somewhere in Yugoslavia, Krachtenfahrt through Holland, several places in Spain, Paris, somewhere in France
Websites I visit every day
Qiero (grin)
Great commercials
Get a Mac
Ingenious advertising slogans
Mach es fertig! Bevor es dich fertig macht! (Get it done before it gets you done)
Favorite foods
Pizza
Favorite drinks
Latte Macchiato, good red wines
Favorite actors
Keanu Reeves, Brad Pitt, Robin Williams, Diane Keaton
Music I like to listen to at the moment
Lenny Kravitz
Newspapers/magazines I read
everything you can read in the waiting room at the doctor's…
Sports I like
basketball, formula 1, watching soccer with Jannik
Things that enrich my life
My family, vacations, my iPhone
Places I can recommend in Konstanz
Ice cream parlor Dolomiti, Restaurant Seelig, Don Alfredo
Wishes I have
To continue to have the people who are important to me around me. Everyone should stay healthy!
My motto/wisdom
To always be there for my children