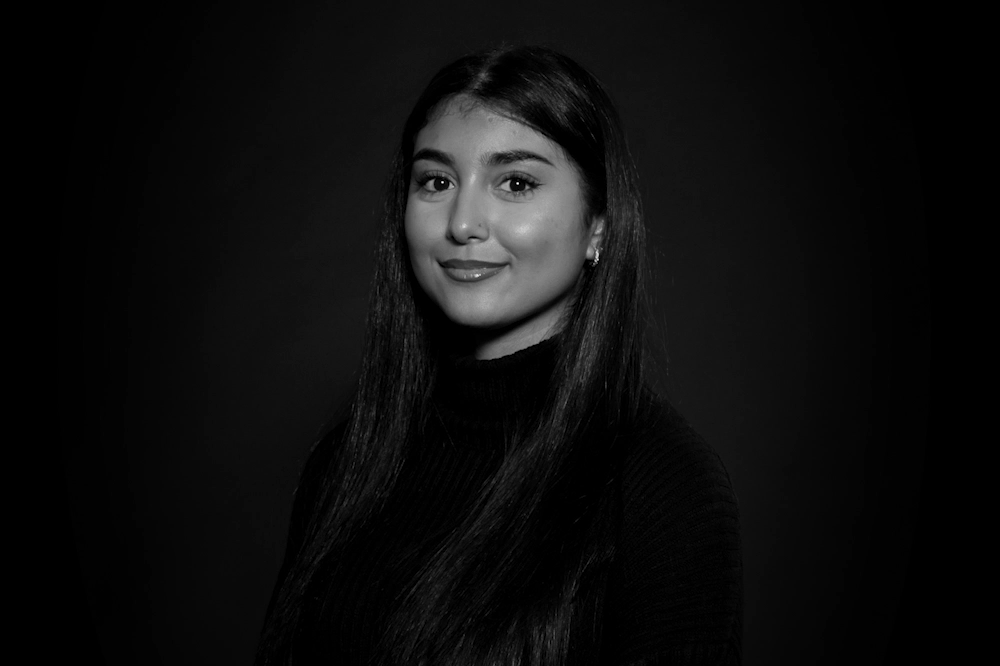 Kreation
Kawtar Allam
Dear Kawtar, your focused and clear way of devoting your attention to a task has already struck me on your first day with us. For such a young person, this is a remarkable ability, which you have acquired with a lot of willpower. One of your great strengths is the precision with which you do your jobs. This means that your colleagues can fully rely on you. You are a real asset to our team and we all can't imagine what it was like without you.
Thank you for being with us.
Your Jan
Things I like about myself
The way I deal with people and my patience
Things I do not like about myself
My impulsiveness and stubbornness
Things I am proud of
My family
People I used to admire
Svetlana Zakharova, Frida Kahlo, Donatella Versace
People I admire today
People who have nothing, but are still happy
Jobs I have had in my life so far
Newspaper delivery girl, temp at a dance school, waitress, fire representative
Movies I can watch over and over again
Harry Potter, Dirty Dancing, Scarface, the devil wears Prada, Sex and the city
Genius Movie Quotes
"Do I drive him to school, or does he ride his donkey?" (Modern Family)
Places where I have lived so far
Levane, Constance
Ways in which I can relax
Listening to music, chatting and laughing, driving around, sports
Books I can recommend
The divine comedy
Places I have been on vacation
Italy, Netherlands, France, Morocco, Spain
Websites I visit every day
YouTube, Instagram, TikTok
Great commercials
Versace Eros pour Femme
Ingenious advertising slogans
Just Do It
Favorite foods
Pizza Caprese, Burrata, Parmigiana, Tagliatelle al Tartufo, Sushi, Tajine, Seafood, Pastillas, Chicken Nuggets, Yufka, CigKöfte, Kebbeh, actually everything
Favorite drinks
Sprite, Starbucks, Moroccan Atay, Avocado Smothiee
Favorite actors
Roberto Benigni
Music I like to listen to at the moment
Drake, Chris Brown, Nicki Minaj, Beyonce, and much more 🙂
Sports I like
ballet, volleyball, athletics
Things that enrich my life
Love
Places I can recommend in Konstanz
The car ferry
Wishes I have
A trip around the world, a beautiful wedding, a Range Rover.
My motto/wisdom
Carpe diem